At the start of a new year, with renewed energy, we'd like to challenge companies to re-design their customer journeys and craft their own differentiated brand experience in the market. However daunting it may sound, one case study provides 5 simple guidelines to leap frog towards CX leadership.
To this end, we unpacked the astounding feedback gathered from in-depth customer experience phone interviews for one of our clients, to understand how one business unit outperformed its peers. Our case study of this business unit's turn-around performance, wire framed a winning formula.
5 simple guidelines for exceptional customer experience
1. A 'service-minded' team

This unit struggled with staff turnover which impacted on the consistency of the customer interactions and service delivery. When recruiting new staff, their focus was to appoint like-mined people, who understood the word: "serve", demonstrated in their attitude.
The impact of getting the right team players paid off, as could be seen in the level of teamwork that customers commented on in their feedback.
Everyone at the branch takes collective ownership of their customers' needs, and sales and after sales staff support each other. There is a sense that no task is too big or too small: the sales manager happily makes coffee for customers or; the receptionist sincerely interacts with a customer's waiting friend.
"Despite the turnover of staff, they are consistently good. The new manager turned out to be brilliant."
"Everybody, from the person on the service desk to the cleaner, spoke the same language: my comfort."
"Our consultant had such a soothing, calming manner about him – he was an excellent selection for the position."
"They really set the bar. They've got the perfect mix of friendliness and professionalism."

2. Engaged leadership

Teams embrace a customer-centric mindset when their leaders are actively involved. Such managers and leaders welcome CX training and customer journey design. They inspire their team to challenge the status quo and prioritize the customer on every level, with every interaction.
The leadership of this unit for example acknowledge and celebrate every accomplishment, like in emails to the entire team, with comments such as: "Well done – I'm experiencing amazing." His team is inspired because they feel appreciated and valued.
This also applies to sales managers: by being passionately involved in the after-sales experience, they contribute collectively to the lifetime-value of customers.
"I was amazed that after 9 years they still had my details on record. I wouldn't have expected them to contact me after the warranty period."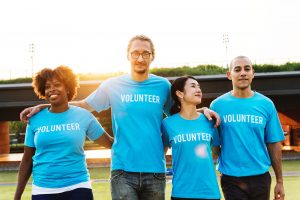 3. An atmosphere of care

People instinctively sense the atmosphere in a room. This unit radiates a vibrant, welcoming energy. This authenticity cannot be faked: they are caring people connecting on a personal level with their customers, as people, not customers. Comments from customers illustrate the level of care by the team:
"I felt mesmerized by the interactions."
"The customer service, the general attitude and the service itself exceeded all my expectations."
 "I had a presentation to give at a hotel which was almost within walking distance, but they dropped me off anyway."
"They create excellent relationships with their customers and make you feel as if you're their only customer."
4. Designed customer experience

Design the experience you want customers to have when interacting with your brand – don't leave that to chance or individual interpretation.  As a team, consider customers' pain points and problems are and design solutions that could address these challenges.  You can create a true connection by anticipating and solving problems (that the customer might not even be aware of).
The manager commented on one deliberately designed experience: "When we designed personalized parking to address the shortage of parking, it started to impact on customers' experience. It made our customers feel like we expect them and they are not a number. Every gesture says something, and we keep building on it."
"I live far way, yet they came to check my problem at my home."
 "I was blown away – it was the smoothest transaction I have ever had."
"They left biscuits for me – a lovely, totally unexpected surprise."
 "I'd left booking my appointment very late, yet they really went out of their way to accommodate me, even offered to collect me."
5. Innovative gestures

A fresh approach will always capture the attention and hearts of customers. Today's surprise, is tomorrow's expectation. The key lies in personalizing each action by empowering staff with the skill to do real-time design, in other words, having the ability to design an appropriate solution for the specific customer (in specific situation) on the spot. This means, within the context of what the desired experience, staff should be supported to provide the appropriate options, not the easy ones. Hiding behind the perceived restraints of the "rules", enhances the feeling of not being heard.
"I arrived very early, yet I was attended to. I was greeted by name and given a bottle of water."
Putting the winning formula in motion
Over a few months, this unit put the winning formula into motion to regain their CX leadership with great results. They proudly claim the highest ever CX rating in the company. The impact of the changes could be seen on the following levels:
Active promotion: a customer wanted to tell a competitor across the street how it should be done.
Sales: extraordinary efforts in the after sales experience directly lead to two sales inquiries.
Conversion: two customers have decided to switch from their current branch because of their experience.
Emotional impact: customers felt valued, and "not a number," which enhances loyalty.
Design your customers' journey to enhance their experience and to differentiate the service experience. Arrange your Customer Experience appointment with us today:  [email protected] or 0824646811
CE services referenced in this case study: